Introduction: The importance of email in modern communication cannot be overstated. Many users initially adopt MBOX email clients, but over time, they encounter issues and seek to import PocoMail MBOX to Outlook. Whether it's platform compatibility, MBOX file corruption, or a transition to new email services, the need for this migration is prevalent. In this guide, we explore methods to efficiently open MBOX files in Outlook 2021, 2019, 2016, 2013, 2010, and previous versions.
User Queries
Before delving into the methods, let's address some common user queries:
Query 1: "I need to provide some clients with MBOX files in PST format as they've transitioned to Outlook. How can I import PocoMail MBOX to Outlook 2019?"
Query 2: "I have Eudora mail files that I want to view in Outlook 2013 on my new computer. Can you guide me on how to open these files in Outlook?"
These queries are indicative of the common challenges users face when importing MBOX to Outlook. While some opt for manual methods, they often encounter technical barriers and limitations. In this guide, we present both manual and professional solutions for a seamless migration.
Method 1: Import MBOX to Outlook via Gmail
This method involves using Thunderbird and a new Gmail account. Please remember to back up your MBOX files before proceeding.
Step 1: Configure a Gmail Account in Thunderbird
Launch Thunderbird.
Select "Set up an existing email address."
Enter your name, email, and password, and click "Continue."
Choose IMAP and click "Done."
Re-enter your credentials in the Google window and allow permissions.
Your Gmail account will appear in Thunderbird.
The MBOX file into Thunderbird in step two.
Install the ImportExportTools NG add-on.
Go to Local Folders, right-click, and select "ImportExportTools NG" > "Import MBOX file."
Choose the MBOX document you want to import.
Upload emails from MBOX to Gmail in step three.
Open the MBOX folder.
Select emails, right-click, choose "Copy to," and select your new Gmail account.
Allow MBOX to be imported into Gmail to finish.
Step 4: Add Gmail to Outlook
Open Microsoft Outlook.
Configure the same Gmail account.
Let the email synchronization complete.
This method is free but can be time-consuming, particularly for large volumes of data. However, it's a viable option for those with the patience to follow through.
Read this Post: Export Eudora Mailbox to Outlook PST
Drawbacks of Manual Methods
Requires Thunderbird installation.
Involves multiple steps, making it somewhat tedious.
Users must repeat the same process for each email.
Method 2: Import MBOX to Outlook – Drag & Drop
This method involves two manual steps: importing MBOX into Thunderbird and exporting emails as EML files to open them in Outlook.
Step 1: Import the MBOX File into Thunderbird
Open your Thunderbird account.
Go to "Tools" > "ImportExportTools NG" > "Import MBOX File."
Pick "Import One or More MBOX Files" and then the MBOX file.
Click "Open."
Step 2: Export as EML Format
Restart Thunderbird.
Drag an email onto the desktop, converting it into an EML file.
Alternatively, click "Tools" > "ImportExportTools NG" > "Export All Messages in the Folder" > "EML format."
Drag and drop the created EML file into Outlook to import it.
While this method is popular, it has limitations. When you drop EML files into Outlook, they act as attachments rather than email messages. You must save these messages one by one using the "Move to" option, making it less convenient.
Method 3: One-Stop Solution to Import PocoMail MBOX to Outlook
For a hassle-free and efficient solution, consider using Softaken PocoMail to Outlook PST Converter. This versatile tool supports various MBOX files from different email services, including Apple Mail, Thunderbird, Claws Mail, Entourage, Netscape Mail, SeaMonkey, Eudora Mail, and more. It's compatible with Outlook 2021, 2019, 2016, 2013, 2010, and earlier versions.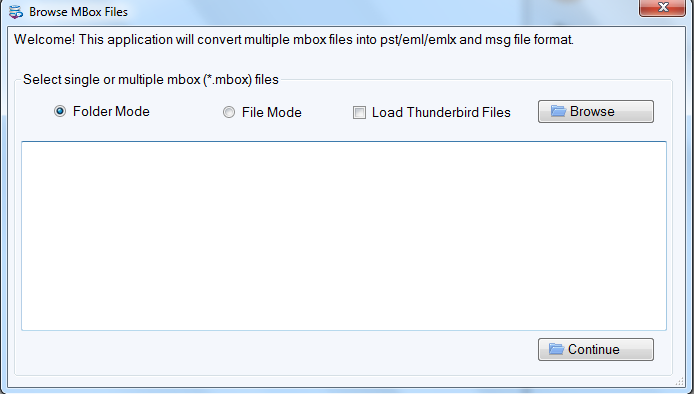 Benefits of MBOX to Outlook Converter:
Bulk import PocoMail MBOX files with no size restrictions and no data loss.
Offers dual options to load MBOX files, allowing flexibility.
Allows users to choose the resultant file location.
Compatible with all Windows OS versions.
In Conclusion,
In this guide, we've explored various methods to import PocoMail MBOX to Outlook. While manual methods are options, they come with limitations. The professional solution provided by Softaken MBOX to PST Converter offers a user-friendly and efficient way to perform the migration. Whether you choose a manual or professional approach, ensure that it aligns with your specific needs and requirements. For additional information, consult technical experts as needed.